The Sound of (Near) Silence
August 17, 2017
Acoustics in gathering-places such as wineries and restaurants have a tremendous impact on guest experience and employee satisfaction. In the Okanagan we are in the middle of our busy summer season with thousands of tourists vacationing here and of course, dining out at popular restaurants as well as touring the many wonderful wineries in this beautiful valley. From your own experience locally, do any locations come to mind where you had trouble hearing the people near you, even if they were sitting just across the table or standing beside you to take your order?
A familiar complaint heard by many (no pun intended) is that it is too loud in many of these venues, with conversations or music echoing off the walls, floors and ceilings. While restaurants and wineries often boast beautiful décor planned out in detail by professional interior designers, the sleek tile, smooth furniture surfaces, stonework and glass make for the perfect echo-chamber if sound-absorption pieces are not also included in the design. This is particularly noticeable to our aging demographic with hearing impairments as echoing rooms are not enjoyable for those using hearing aids.
Acoustic designs come in a wide variety of looks and functionality, all of it created to absorb sound. From funky artwork that adds a pop of colour to a room, to ceiling-mounted shapes that hang like lights, to discreet panels painted the colour of the walls to blend in, there are many options for adding sound-absorption components to busy locales.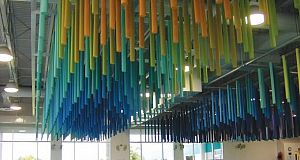 If you own or manage a restaurant or winery that would benefit from sound-absorption pieces, or work at one and are tired of straining your voice on the job, contact us at Points West for an assessment. We even have a couple of wineries that are so pleased with our recent improvements that they are assisting us with a student video assignment from the Centre for Arts & Technology Okanagan that highlights acoustics from our firm – stay tuned!